I'm sitting in my hotel room the last night before we fly home, without him. Him being the little, squishy boy I had the pleasure of meeting this week. Boy number three! In some ways these last few days have been a whirlwind, in others, time moves so slow. The day to day of finding ways to fill the hours until our next chance to meet him or court session are long, but the times of importance when we get to be with him are fast.
Of the seven full days, we spend in this country, only two hours are spent with him. The first hour was spent at his foster home, which was lovely. The second hour was spent a few days later at the adoption agency, not as lovely. Monday we arrived at the agency at 9 am and found out that his home was a forty minute cab drive away from where we were. So, the caseworker loaded us into a cab and away we went. We drive through the city of Seoul, out onto a highway and towards a suburb just outside of Seoul. A few more turns here, some stop signs there and we pull up to a building. It all feels so real and surreal at the same time.
"His house is just there, on the first level" our caseworker points as she leads the way towards the door. We don't wait long after knocking before his foster mom opens it. She must have been watching for us. So much is going through my mind. I wonder if she feels the same way too. This is not an easy thing, and it's her first time fostering any child. We are not the only ones with mixed emotions.
I remember to slide my shoes off before walking through the door and there dressed in a black and purple sweatsuit stands my third boy, Sawyer Nathaniel Harang Cook. He is adorable! In the pictures we have of him, he appears to be big, especially his cheeks. Everyone who has seen his pictures always says " look at those cheeks." In reality, he is little and very much a baby, but the cheeks, they are legit.
One look at me and he begins to cry and I think I might as well, but instead I just crouch down and say "hi". He is not impressed and runs to his " Eomma", which is mom is Korean. He drags a bag of Duplo blocks behind him. We all sit on a mat on the floor. We exchange some pleasantries, give them some gifts, but I can't really wait anymore. I reach out to brush my hand against his head. This causes some more crying. He was very wary of us. I imagine he has never seen people that look like us. An emotional, blonde haired, white girl, invading his personal space, but I brought bubbles and that piques his interest. We blow and pop and play for a bit until he grows tired of them. Then he and Ron play while I ask all sorts of questions to get a handle on his life. I want to know his likes, dislikes, schedule and his favorite things.
It turns out he doesn't really care for beef, will tolerate pork, but loves chicken and soft white bread. I can't help but laugh, he's my twin. He also loves the outdoors, dogs and playing with his foster brothers. I feel a bit of the tension in my shoulders release. He is going to fit in so well at home. After we are served some strawberries and juice he lets me hold him, he even waits for five full seconds before letting out a wail. That was okay, it was enough time for me to snuggle his neck and plant a kiss on his cheek. The clock moves so quickly and already it's time to go. Some waving, bowing, kissing and a thank you then we're done. Not too bad.
On Wednesday, we get to have our second meeting. This time at the agency. He is already there when we arrive, drinking his bottle. He is preoccupied so it's much easier for me to hold his hand and rub his head. Eventually, he finishes and I pick him up. He pouts his lips out and makes a whining noise, but I ignore it and bounce him around. He's not happy about it, but he lets me continue to hold him.
We go to a small room off of the hallway. Our caseworker says that the foster mom will stay the whole time and that we can play with all the toys in the room. It's awkward and hard to play with a baby that really just wants to go to his mom. He doesn't cry as much as we expected and we even get a bit of a laugh from him. He is quite shy and very serious. It's as if he can sense that his life will soon change. His foster mom kept giving him bouncy balls and telling him to bring them to me , Eomma. I absolutely hate the look of question in his eyes. He looks confused at her when she points to me and says "Eomma". My heart sinks at what is to come, so much heartache. He loves her, as he should, and he has no clue that in a few weeks his world will be flipped upside down. There is no way around the pain, we must walk through it, but not yet. Soon the hour is over and I attack those cheeks with kisses. I thank his foster mom again and wave goodbye one last time.
Finally, Friday is here and it's court day. Back to the agency we go. This time, we pile into a van along with two other families. We travel a few minutes until we reach the court building. We sit for what seems like forever before they start calling us in. Each couple must go in by themselves. We are told our judge is new to the adoption side of Family Court, but that he is a kind man. We find this to be true. Through the interpreter, he asks how we will manage three kids, as "that's a lot". I feel myself squirm a little. I don't have the answers and I assume it will be how I handle most things in life, prayer and chocolate. You take it one day at a time, right?!?
He has a few more questions, he asks me in particular some things about raising children and then asks Ron why we have enough land for a farm, but he is a funeral director and not a farmer. Ron handles himself well, meanwhile, I'm like the little kid in school who's trying not to let the teacher see them laugh. I just keep picturing myself with livestock…
Then that's done as well. We walk out and into the subway system. We have thirteen stops before the station to get off at our hotel. Mostly, we just kinda stand and stare into space. I feel tired, it's been a big week topped off by a big morning. I am so thankful that it's all gone well and as big as some of these moments are, I have a much bigger God walking with me each and every step of the way. He is faithful and I lean on that as we travel back home while the chubby cheeked baby stays here.
While a lot of the trip is serious and emotional, not all of it is. We have had some fun. Seoul is hard to explain. It's just huge, with people everywhere! There are also plenty of things to do and see there. We've hiked mountains in the dream forest, walked among ancient palaces, visited the Olympic park, explored a traditional village, strolled along the hundreds of shops, drank tea and sampled all kinds of different food. The cultural experience is amazing.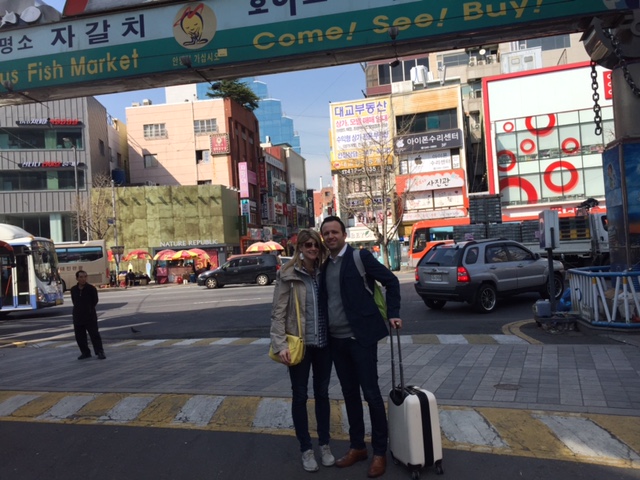 A huge highlight of our trip was traveling to Busan, where Charlie was born. Because as if meeting your third child is not emotional enough, we decided to see where our second child was born. Have I mentioned how tired I am? Busan is a coastal city with a very different vibe from Seoul. It is a really beautiful place and I treasure getting to see it. I feel so privileged to have caught a glimpse of this amazing place and these wonderful people.
Mostly, I am just so challenged and grateful to God through this journey. It is so much more than I could have ever imagined.